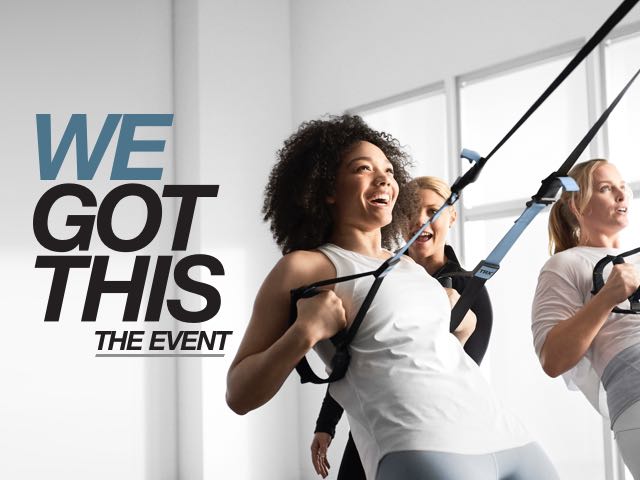 We Got This
Power through all 4 group training formats in one explosive workout event. Feel the energy, experience the amazing community and be pushed to new levels with our specialized coaches. Motivation. Celebration. We got this.
Complimentary one-night event, April 25
Try All 4 Formats

The foundational class blends cardio, strength and nutrition coaching to help begin a sustainable routine.

Move beyond the basics with body-changing cardio and more advanced total-body strength training.

Insanely effective metabolic conditioning helps improve overall endurance and performance.

Olympic lifting and athletic movement help you face — and crush — constant challenges.
Event Details
Check-in and warm-up, 5:30–6pm
Get ready for the main workout together on the gym floor.
The workout, 6–7:15pm
A powerful workout to experience all 4 group training formats. Rotate through each class with a small group and a specialized coach.
Social, 7:15–8:00pm
Keep the party going with refreshments, music and more.
What to Expect
What is group training?
GTX and Alpha group training classes are customizable for your schedule and lifestyle. Meet for Personal Trainer-led workouts and a community that supports and motivates you. You'll get to experience all 4 formats at this event: GTX Burn, GTX Cut, Alpha Metcon and Alpha Strong. Plus, meet some current group training members and coaches!
What should I wear?
Workout clothes and your best training/gym shoes. Something you'll be comfortable moving and sweating in.
What should I bring?
A water bottle and a great attitude.
Can I bring a friend?
Yes! Non-member friends can register on the event landing page by clicking "Non-Member Reservation."
I've never tried group training. Can I still come to the event?
Yes! This event will give you a sampling of each group training program. It's okay if you've never swung a kettlebell or are just getting started in your routine. We're here to give you a great workout and introduce you to each of these amazing programs.

What equipment will I use?
You'll use a variety of equipment, including dumbbells, kettlebells, treadmills, resistance bands and more.
How many classes will I experience?
Each club will rotate small groups through 4 abbreviated GTX and Alpha group training classes, including a brief 5-minute explanation of each class.
You can expect to experience:
10–15 minutes of GTX Burn
10–15 minutes of GTX Cut
10–15 minutes of Alpha Metcon
10–15 minutes of Alpha Strong
Always consult your physician before beginning any new exercise program.