Mike W.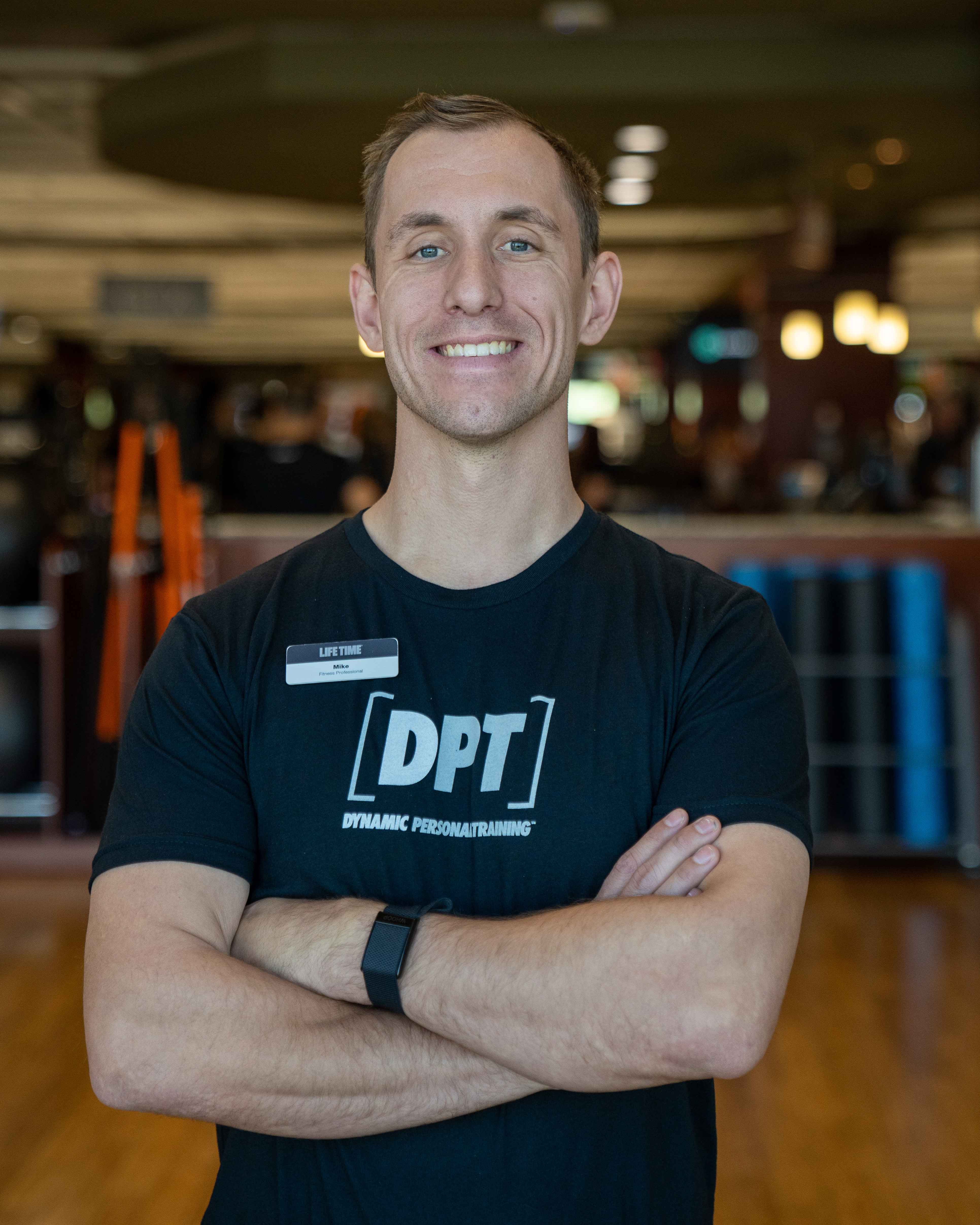 Real freedom comes with attention, and awareness, and discipline, and effort, and being able truly to care about other people and to sacrifice for them, over and over, in myriad petty little ways.
Specialties
General Health and Wellness
Strength Training
About Me
I believe Fitness is for everyone. Do you want to knock thirty pounds off the scale, do you want to pack thirty pounds on your bench press, maybe you just want to be able to keep up with the grandkids? Whatever the goal, I promise we can get you there fast, fun, and effectively. With over a decade of industry experience, I've helped everyone from C-Suite Executives, to Stay at Home Moms, Fashion models, and Traveling Salesmen. I specialize in helping busy people see real results so they can spend more time with the things that matter most to them.
Testimonials
Ed C.
Mike listened to me: Why I was coming to a fitness trainer. What I needed to accomplish, long term. He developed a plan to fill the gaps in my needs and added some activities to achieve overall fitness balance. As an active 75 y/o who volunteers as a Search & Rescue member, he listened to my senior fears of overtraining and injury and we together managed a successful program. Thanks,Mike.
Hylon H.
Mike helped me build a realistic and attainable set of health goals. He helped keep me honest and working towards those goals. Mike paid attention to my physical and mental health during my journey and would always adjust when my body was not quite ready to push harder. He knows it is more than just working out and helped me better manage my nutrition and was good at changing things up to keep me on track. Mike helped me bring my weight down by roughly 40lbs and in a way that has been sustainable. Mike is a phenomenal trainer, and I would recommend him to anyone who is willing to put in the work and make the personal changes to feel better and do more.
Amanda B.
I have always been active swimmer but overweight. I came to see Mike because I knew I needed more than the treadmill but trying out the weights scared me. I knew I need to add the other parts of the gym into my life but had no idea where to start and was intimidated by that. Mike was really helpful with making me feel comfortable and understanding my situation and my goals to stay active and lose weight. He was very patient with me and made the weights not seem so scary. I have bad shoulders from years of being a competitive swimmer and he took my previous injuries into account when planning my exercises and walking me through ways to strengthen my shoulders without overworking them. He came up with a nutrition plan and held me accountable for what I needed to do. He let me go at my own pace and if I needed daily check ins that week he did it. I looked forward to my training sessions and didn't dread the evil weights because of him. Now I love using weights and using the tools he gave me to continue on my fitness and health journey. Without him I'd still be just doing the dreaded treadmill or would have given up. He gave me my fitness life back.
Aaron S.
When I first Mike, he pulled me right in. I was in fear of starting a new workout program due to a lingering back problem that I thought I would aggravate if I started lifting weights again. I was always afraid of doing the wrong movements that would injure me and take time away from my work and personal schedule. But Mike was able to show me functional movements and give me the CONFIDENCE to trust my body and mind to start lifting again. He's a very nice person and truly cares for your well-being both inside and outside the gym. He's there to help you reach your goals and give you the confidence to hit those PRs and keep coming back to the gym. Highly recommend!
Frances A.
I met Mike when I was aging, let's kindly say--less than gracefully. While I had always been very active when younger, time and responsibilities were taking a toll and the bottom line was that I wasn't taking care of myself. I became desperate enough to join a gym and was referred to Mike for training. Something I was dreading became something I looked forward to, didn't want to miss. It wasn't just because I was getting stronger and more energetic. It was because Mike provided an environment for growth, in many ways. He believed in me and my success even when I was flagging behind. I find him to be a genuinely caring human, with a great sense of humor, who is able to draw out the best of me. And he never gives up...
Justin B.
I have over ten trainers in my life and while some were good Michael was the best. Not only did he address my concerns about injuries, he was also able to help me recover from those injuries with workouts no other trainer had put me through. If you want to learn how to properly train your body and also understand why you are doing it then you should work with Mike. Best trainer I ever had.
Marty L.
I had the good fortune to work with Mike after having bariatric surgery in 2016, in the effort to lose weight and begin living a more healthy lifestyle. Mike was friendly, supportive, and collaborative, as we created a plan for my future health. I saw incredible results working with him - my life and health improved dramatically as a result of his training. Also, it was great talking movies and TV shows with him. :) If you're looking for a training partner who will work with you and inspire you to accomplish your goals, look no further - Mike is that partner.
Jacob G.
Mike was a great personal trainer. He worked with me for almost a year and during that time, he gave me great guidance for both diet and exercise. He put me through tough workouts, but always kept me motivated and inspired me to do better. He taught me how to count calories and track my meals so I could stay within my weight-loss goal. Above all, Mike is a great friend and really put in the extra mile to make me want to be better. I couldn't have asked for a better trainer.