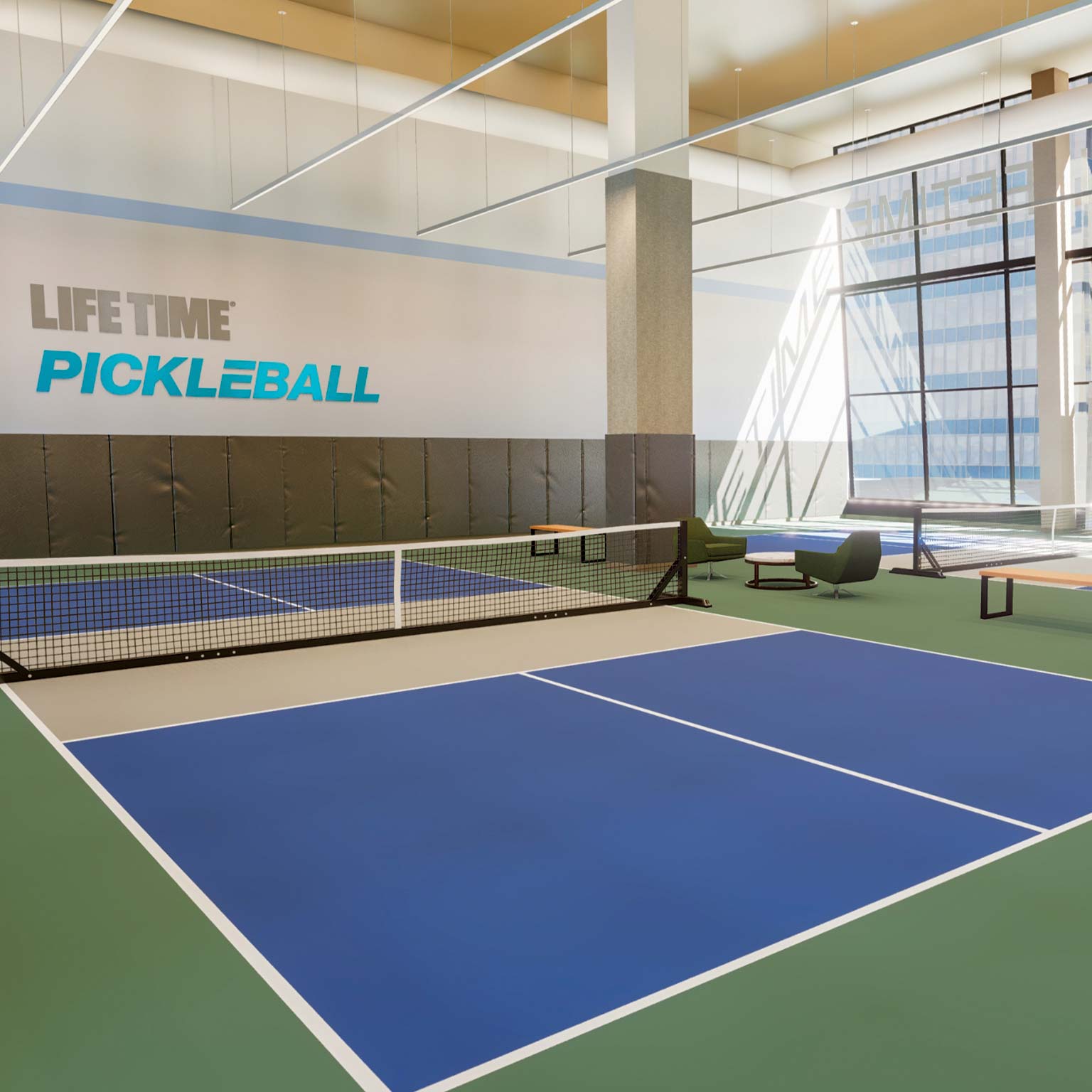 Indoor Pickleball in NYC

Located at street level at the corner of 42nd and 11th, our Life Time Sky offers two indoor pickleball courts. Arriving early 2024, our newest destination in NYC, Life Time at PENN 1, will offer seven indoor courts. Access to these courts requires a Premier Membership.
---
What pickleball programs and amenities are being offered?
Sky currently offers two indoor courts and in early 2024 PENN 1 will offer seven courts with reservable court time and open play. Plus, leagues, clinics, tournaments and social events are offered.
Who will have access to the pickleball offerings?
Only those with a Premier Membership will be able to reserve a court or participate in any game play or other pickleball offering. All players participating must have a Premier Membership. No guests are permitted at this time.
What is a Premier Membership?
A monthly membership that includes access to pickleball at Life Time Sky and the future PENN 1 destination plus access to all 160+ Life Time athletic country clubs across North America, along with early reservations for group fitness classes and unlimited GTX, Alpha and Ultra Fit signature training programs at all clubs, along with access to all other pickleball courts nationwide.
What is the monthly pricing for Premier Membership?  
First Person or Single Membership:  $299 per month
Second Person:  $100 per month ($399 per month total)
Third Person:  $80 per month ($479 per month total)
Fourth Person:  $50 per month ($529 per month total)
Plus, applicable taxes.
Are reservations always required?
Yes. Reservations are required at all times for both court time and Open Play.
How and where do I pay my court fee?
At Sky, the court fee for your reservation will be collected at the check-in desk. Directions for PENN 1 will be provided upon opening. Only card and club tab payments are accepted. Unfortunately we cannot take cash.
How can I stay updated on what classes, lessons and clinics are available?
Please refer to Sky's schedules on the Life Time Digital app or website for the additional programming opportunities. PENN 1's schedules will be posted in line with its early 2024 opening.
What happens if I need to cancel my court reservation?
You can cancel via your Life Time Digital app or website. Cancellations less than 24 hours in advance may be subject to the full court fee.
How do I upgrade to Premier Membership?
Please see member of our Concierge Team at your home club.
Is there a fee to upgrade?
At present, this fee is temporarily being waived. In the future, an up to $300 upgrade fee will be charged to your credit card on file 1–3 business days after the upgrade request has been approved.
What is the court reservation fee for pickleball play at Sky?
A $100 per hour court fee will apply for court reservations. If reserving for multiple Premier members, the fee cost will be split amongst the group. No fee applies for Open Play reservations.
How do I reserve a pickleball court?

Whether you're looking for people to play with or want to enjoy a game with friends, we have options to get on the court and get connected.
1.     Court reservation. Book an available court and enjoy a game of pickleball with your friends on your terms. All players must be Premier Members to access the Sky courts. Reserve a court on the Life Time Digital app or the website.
2.     Open Play. Open Play provides a series of set times each week for players to rotate in and out of games and play with different partners. Everyone who registered gets a chance to play, and it's a great way to get to know other pickleball players. Register for Open Play on the Life Time Digital app or the website.
Are pickleball paddles and balls provided?
Yes, at Life Time, we have complimentary loaner paddles and pickleballs available, or you're welcome to bring your own.