Welcome to Life Time
Every time you visit Life Time, you're taking steps toward living a healthier, happier life. Begin your journey by getting to know our start-up processes, resources and special new-member benefits.
Read Video Transcriptopen video transcript
Life Time Member App
Your digital membership card is in the Life Time Member App. Simply present it at the front desk each time you visit the club. You can also use the app to find classes, reserve courts, order from the LifeCafe and more.
Membership Card and Agreement 
If you joined online, we'll ask you to sign your membership agreement and take a photo for your physical membership card, which will arrive 1-2 weeks after you join. We'll give you a temporary card to use in the meantime.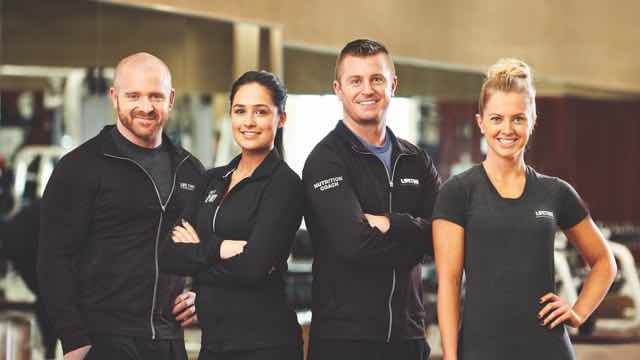 Getting Started
Your Life Time membership can enhance your life in so many ways — in and out of the club.
Take a Class
Jump into the club experience with one of our yoga, cycle or studio classes. Find class schedules online or on the Life Time Member App.
Schedule Your Free Session
Discuss your fitness goals with a Personal Trainer. Your free onboarding session includes an equipment introduction and a personalized workout.
Exclusive New Member Programs
Let us guide you to success with programs designed specifically for our newest members.
Lose Weight
With 12 weeks of workouts and curated weight loss resources, this progressive plan will help you achieve your goals in a healthy, sustainable way.
Gain Muscle
To gain mass, you need a comprehensive training and nutrition strategy. Learn how to build lean muscle the healthy way with our science-backed program.
Live Healthy

Staying healthy is a lifelong commitment. Get the tools and education you need to help you get stronger, eat better and gain energy.
Frequently Asked Questions
Questions about your membership, offers, classes or club? Find the answers to these questions and more.
---
Where do I go on my first visit to the club?
Come to the front desk, which you will see right inside the main doors. If you don't have a membership card yet, our front desk staff will give you a temporary one to use until your permanent card arrives.
What new member promotions can I get?
Watch your email for your first Life Time Insider, which contains all your new member offers. From complimentary services to product discounts, these offers are not to be missed.
Which clubs can I use?
After logging in to your myLT account, go to the Locate a Club page, where you can search clubs by city, state or zip code. View the clubs you can access by checking the "Only show clubs I can access" checkbox.
What classes are included in my membership?
All Studio Group Fitness classes and member workshops are included in your membership. Quickly find complimentary classes by going to the Class Schedules page of our app or website and applying the "free classes only" filter.

Which services are not included in my monthly dues?
TEAM Training, Pilates, Personal Training, Nutrition Coaching, LifeSpa services, Kids Academy and swim classes are some of the specialty programs we offer at an additional charge. Find prices in our class schedules, or explore our programs and services on mylt.life.
What is Experience Life?
Dedicated to supporting healthy, happy lifestyles, Experience Life is Life Time's award-winning health and fitness magazine. Learn more here.
How can I get a tour?
Simply ask a front desk team member, who will call a club leader to show you around.
How do I log in to the website or app?
If you are a Life Time member age 13 or older, go to the Create Account page and follow the directions to complete the form. You'll need your membership number, which you can find on the back of your membership card. Once you create an account, you can use your credentials to log in to our member website and app.
What are my monthly dues and when are they due?
View your monthly dues in your Membership Summary. Dues are charged on the first day of every month.
Do I need to sign up for Group Fitness classes?
You can attend any Studio Group Fitness class without a reservation as long as there's a spot available. You may reserve a spot in select classes by clicking on the calendar icon displayed on the class schedule.
What are LT BUCK$?
LT BUCK$ are rewards that you can earn and store in your myLT account. Redeem them on all services and select products at Life Time. Learn more at mylt.life.lt-bucks.
Didn't find what you were looking for? Visit our Member FAQ page.
*Programs, services, fees and amenities vary by club. **Only Signature Group Fitness Classes are complimentary.