Schedule Your Free Session
Talk to a Personal Trainer about your fitness goals and how to reach them. Your 60-minute onboarding session includes an equipment introduction and a personalized workout.
Access New Member Resources
Discover exclusive new member programs, explore class schedules, browse Frequently Asked Questions, get a quick locker tutorial and more.
Earth day 2021
How Life Time Is Going Green
From reducing plastic to conserving energy and water, Life Time continues to make improvements to its club and facilities with the planet in mind. Learn more about our sustainability efforts –– and get tips on how you can make a difference at home and in the club.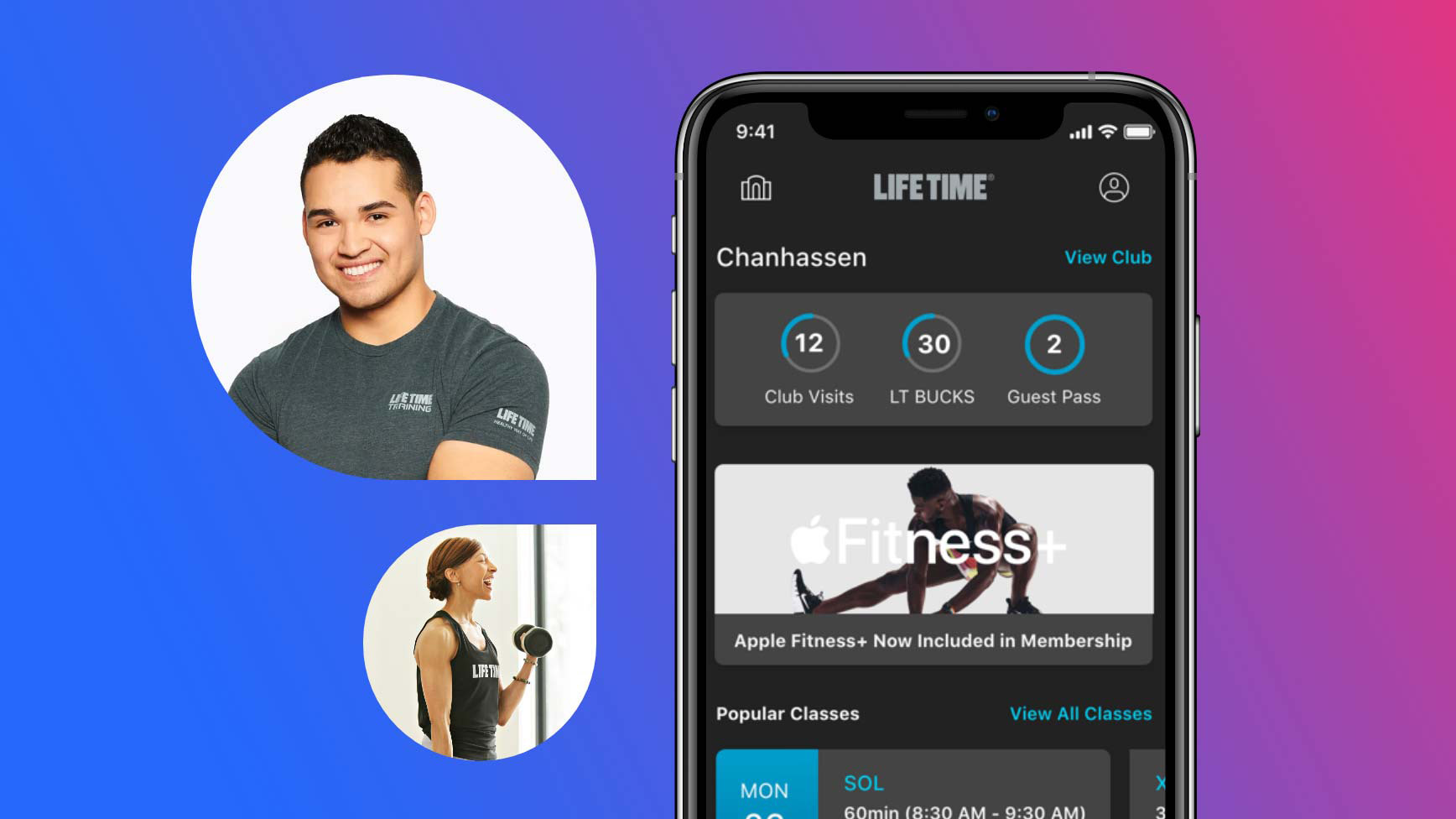 Life Time Digital Is Here*
We've re-released our member app with new features like Apple Fitness+, live-streaming classes, virtual training and on-demand class videos. And it's all included in your membership.
Healthy People. Healthy Communities. Healthy Planet.

At-Home Tips
Go Green, Save Green
Repairing or replacing items in your home can reduce your carbon footprint –– and save you money. From switching showerheads to smart-streaming media, explore 19 simple swaps you can make right now.
Food Culture
How to Start Eating Local
Easing environment strain and supporting local economies are two great reasons to eat local. Explore our 5-steps guide to finding the locally-grown foods that nourish us, our communities and our planet.
Sustainability

The Problem with Plastics
People have done without plastics for most of history. In the interest of human and planetary health, we can again –– if we're willing to shift our buying habits and push for large-scale change.
Stay Connected

Want to hear more? Check out our club's Facebook page to go more club updates and connect with your Life Time community.
Strong. Safe. Together.
When it comes to keeping you safe, cleanliness and social distancing are just the beginning. Advanced measures like enhanced air filtration and real-time capacity monitoring are in place now — and we're continually working to make our clubs even safer. Check out the video above to see for yourself what it's like to visit a club today.
View Safety Protocols and Mask Requirements
Peak Usage Tracker
Touchless Check-In
Temperature Screening
Extensive Cleaning Protocols
Hospital Grade Air Filtration
Spacious Clubs Offering Ample Social Distancing
Online Class Reservation
Virtual Training and Class Options
---
Masks
Please bring and wear a mask. For the health of our community, mask use is required for members over the age of 12 when within 6' of others, this includes when entering the club and navigating to and from the fitness floor and studios. Masks are available for purchase at the LifeCafe and shop.lifetime.life. Mask usage is required except in the following instances:
While exercising and physically distanced

While participating in outdoor activities and physically distanced
When not safe or practical, for example:

Eating / drinking
Swimming
Showering
If you have a medical need which requires a mask exemption, please contact your club leadership. They will engage with you through an interactive process which helps identify an appropriate alternative accommodation, while also continuing to uphold safety standards and government requirements in these uncertain times.

 
Temperature Screening
Please remain at home if you're not feeling well. To support the health and safety of the entire Life Time community, we are conducting daily temperature screenings for all Members and Team Members (note that our screening device does not store information). Entry to the club will not be permitted for anyone with a temperature of more than 100 or 100.4 degrees, subject to government guidelines. Please refer to signage in your club for additional information.

Water
Bring a filled water bottle as refillable stations may be unavailable, in accordance with state and PHAC guidelines.
Guests
Please refer to your club hours page to view the daily ability for guest visits.
*Apple Fitness+ included in membership offer is a promotional subscription code, and is not for resale, has no cash value, and will not be replaced if lost or stolen. Valid only for Apple Fitness+ in the United States. Requires Apple Media Services account. Terms and Apple Privacy Policy apply; see the applicable terms at https://www.apple.com/legal/internet-services/itunes/us/terms.html. Compatible products and services required. Redeemable by only the primary account holder on the membership. Must be 13+. The following memberships are not eligible for this offer: Day Pass, Short-term, trade-out, or tuition memberships.
This is a promotional subscription code, and is not for resale, has no cash value, and will not be replaced if lost or stolen. Valid only for Apple Fitness+ in the United States. Requires Apple Media Services account. Terms and Apple Privacy Policy apply; Must be 13+. Compatible products and services required. Cannot be combined with other offers providing access to the same service. Plan renews for $9.99/month after the promotion until cancelled.↩